Experience Paula Rodríguez, one of the most sought-after flamenco dancers in Spain, live on stage from October 2023. Authentic Flamenco, held at the Judith Wright Centre, brings together award-winning professionals for an unforgettable performance with stunning vocals, instruments, and dancers. Tickets are currently on sale and after sold out shows around the world, we suggest you secure yours soon. Ole!
Now for a limited time only, you can experience some of the best Flamenco in the world, right here in Brisbane. Paula Rodríguez, accompanied by professional Spanish artists and choreographed by the renowned Amador Rojas, will take you on a journey into the heart of Spain. Produced by The Royal Opera Of Madrid, this show is a unique opportunity to experience the traditional art of Flamenco. 
For those who are unfamiliar with Flamenco, the performance consists of the songs, the musical accompaniment and of course the dancers. The songs performed are loaded with emotion, and often deal with themes of death, anguish, despair, or religious doubt. As an accompanist to the dancer the singer acts as the narrator, relating the legends or stories of daily life. 
The dancer is the protagonist of the singer's story as well as its interpreter, using their movements and facial expressions to convey meaning. The art form is an incredible example of how music and dance can act as mediums through which complex stories are told. 
Tickets for the performance start at $99, and there are numerous ticket options to choose from for any date you select. You can go for the standard tickets, or upgrade to a VIP package for superior seats, as well as a chance to meet and take photos with the performers after the show. The show is a family friendly event, but audience members under the age of 16 should be accompanied by an adult.
Prepare to be captivated as you are swept away by the sounds of Spanish Guitar and the sight of professional dancers. The intricate footwork, graceful hand movements, and expressive body language all work together to create a performance you won't forget.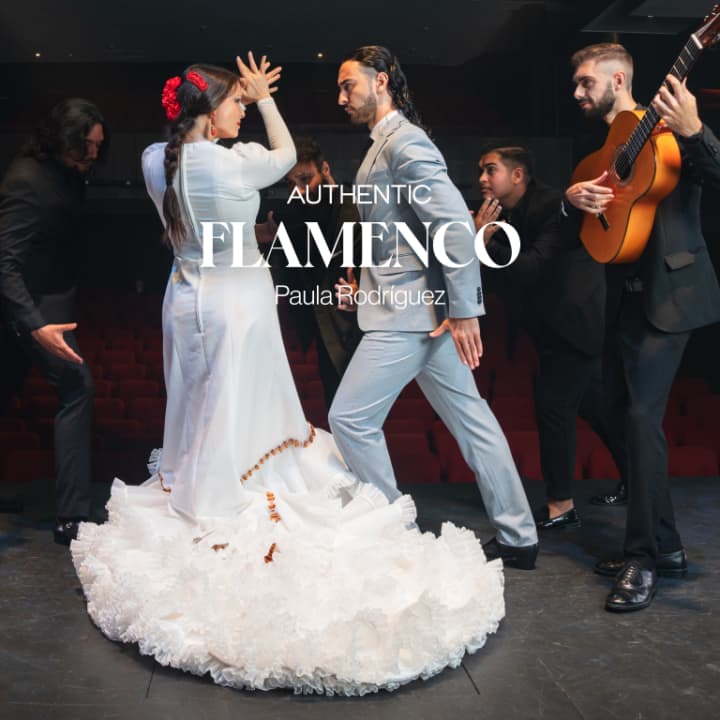 Authentic Flamenco Presents Paula Rodríguez
---